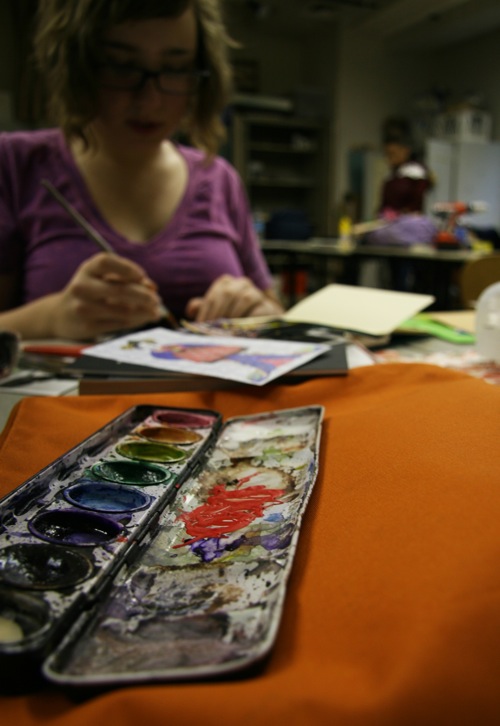 Deadline:  Online Applications must be submitted no later than December 14, 2018
Complete an ONLINE APPLICATION TO AUDITION
Once an audition date and time is assigned, supplemental forms may be required from individual departments.  These forms will be e-mailed with your audition date and time assignment.  Please make sure your email address is complete and correct on your application.  All communication will be done electronically.
Once your application is complete we will email the Visual Arts audition questionnaire, Mandatory Assignment and Drawing Assignment.  Bring these to your audition.
Portfolio Requirements for Audition
Visual Arts applicants should bring 15-20 original works of art showing a variety of techniques, media, and concepts, in 2-dimensional and/or 3-dimensional forms. Digital drawings, movies, & photographs can be brought on a thumb drive.
A laptop computer will be provided.
Works completed independently as well as class assignments are encouraged.
Works kept by art teachers should be collected from the teacher and brought to the audition.
In progress artwork is acceptable.
Bring your sketchbooks and journals even if they are not completed. We like to see work in progress, as well as mistakes. You need to make mistakes to be learning and stretching.
Drawings from photographs, anime cartoons, or comic books are discouraged. We want to see your original work, not copies of another artist's work or style.
Bring drawings from imagination and direct observation from life:
Drawing 'direct observation from life' is defined by GSA as a drawing done by directly looking at real and physical objects, people, and/or surroundings with no reference from photography. This can be done with any drawing medium. 
If you have any questions, please email: This email address is being protected from spambots. You need JavaScript enabled to view it.